Mechatronica SC awarded with excellence for innovative enterprise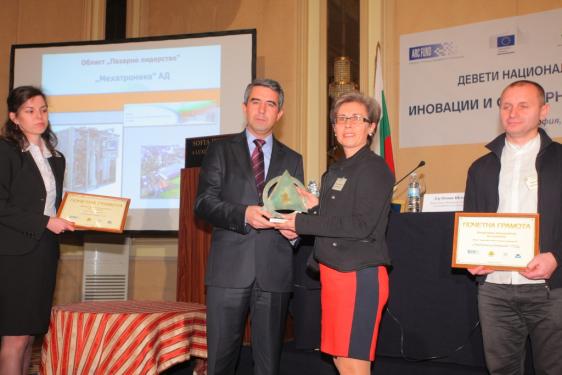 The National Contest Innovative Enterprise of the Year 2013 was organised for the ninth consecutive year by ARC Fund as coordinator of the Enterprise Europe Network in Bulgaria, in partnership with the Ministry of Economy and Energy and the EC Representation Office in Bulgaria.
President of Bulgaria, Mr. Rosen Plevneliev, presented honorary statuettes to Mechatronica JSC for "Market Leadership".
"Mechatronica" JSC is an innovative company for design and production of automatic machines for manufacturing, filling and sealing of flexible packaging for the cosmetic, food, chemical and pharmaceutical industries. For its innovativeness, speed of development and excellent quality of engineering solutions, the company is a preferred supplier of automated machines for the largest producers of cosmetics in the world. The machines of the company are used in the production of more than 20 % of the tubes in the world. Innovative solutions of the company are protected by numerous patents – European, USA and Bulgarian.